2014 China Wedding Professional Skills Contest Concludes in E China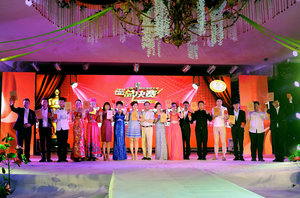 Winners of wedding hosts at the finals of the 2014 China Wedding Professional Skills Contest [Women of China/Zhang Ping]
The finals of the 2014 China Wedding Professional Skills Contest, which aims to develop the professional wedding market, talents and brands were held in Qingdao City, east China's Shandong Province, from June 3-5, 2014.
This contest consisted of 10 competition items, including wedding hosts, wedding designers, wedding make-up stylists, wedding consultants, micro-film producers, etiquette supervisors, wedding florists, lighting engineers, hand painters, and wedding properties.
To date, 10 wedding professional skills contests have been held since the First China Wedding Host Competition was initiated by the China Women and Children Development Center under the All-China Women's Federation (ACWF). The contest has fostered thousands of wedding talents, thus becoming a good exchange platform and pillar program in the Chinese wedding industry.
The finals of the 2014 China Wedding Professional Skills Contest highlighted the culture of weddings created by wedding masters, presented good weddings, music, products and wedding dresses, built a national creative wedding industry chain and encouraged wedding personnel to continually move forward.
This contest was organized by the Wedding Dress Committee of the China Textile Commerce Association and undertaken by Qingdao Show • Culture Communication Corporation Limited and Qingdao Laochuanfu Catering Management Corporation Limited with cooperation from China Wedding Industry Alliance Corporation Limited, Chinese Wedding Magazine as well as the website china-hunyin.cn.
This contest invited the Committee of Wedding Service Industries, established wedding dress institutions and wedding experts to make up the judging panel.
Lu Yanping, president of the China Wending Industry Federation and former director of the China Women and Children Development Center, among other officials and wedding experts, presented awards to winners.
After the awards ceremony, a flag-handover ceremony was held with the contest flag handed from the Shandong Wedding Trade Association to central China's Hunan Wedding Trade Association, signalling that Hunan's capital city of Changsha will host the next contest.
The China Association of Marriage and Family (CAMF) under the ACWF, the Chinese Society of Educational Development Strategy Committee for Lifelong Education Research, and the China Wedding Culture Society (CWCS) under the Chinese Folk Literature and Art Society, have given support to the 10 contests as organizers or undertakers.
Teams from the wedding trade associations of different provinces take part in the opening ceremony of the finals of the 2014 China Wedding Professional Skills Contest in Qingdao City, east China's Shandong Province, on June 3, 2014. [Women of China/Zhang Ping]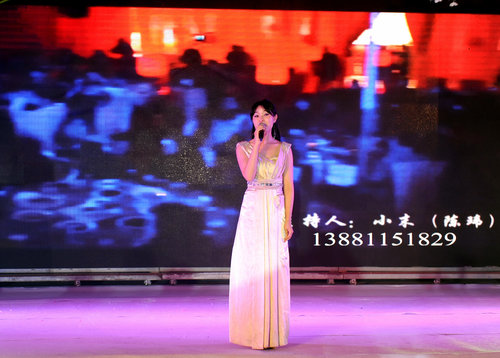 A candidate takes part in the wedding-host event of the finals of the 2014 China Wedding Professional Skills Contest in Qingdao City, east China's Shandong Province. [Women of China/Zhang Ping]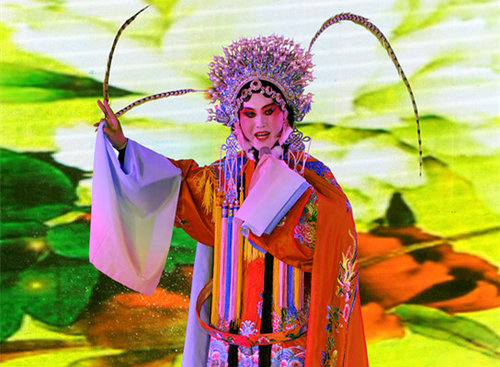 A candidate performs Yu Opera at the finals of the 2014 China Wedding Professional Skill Contest in Qingdao City, east China's Shandong Province. [Women of China/Zhang Ping]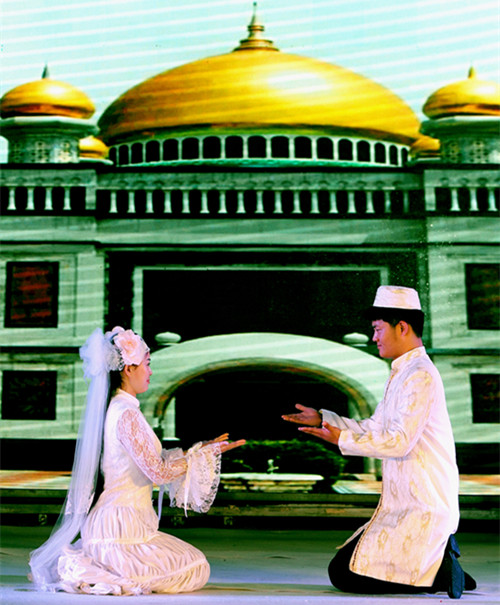 A wedding show of China's Hui ethnic group at the finals of the 2014 China Wedding Professional Skills Contest in Qingdao City, east China's Shandong Province [Women of China/Zhang Ping]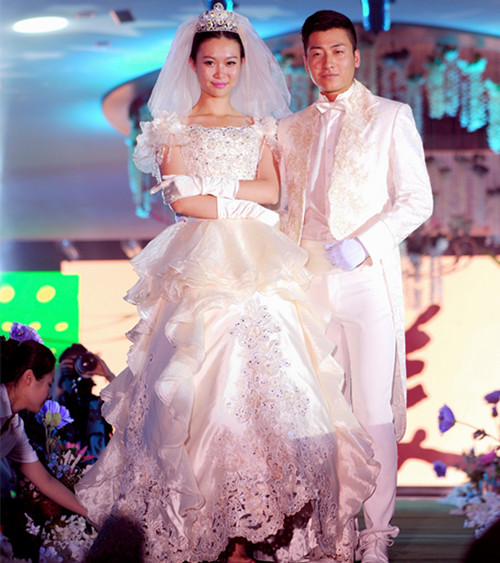 Wedding dresses by designer Cai Meiyue at the finals of the 2014 China Wedding Professional Skills Contest in Qingdao City, east China's Shandong Province [Women of China/Zhang Ping]
Wedding dresses on show at the finals of the 2014 China Wedding Professional Skills Contest in Qingdao City, east China's Shandong Province [Women of China/Zhang Ping]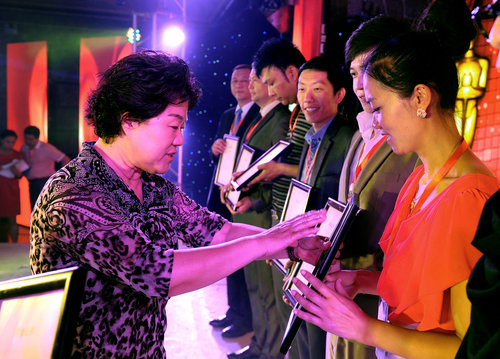 Lu Yanping, president of the China Wending Industry Federation and former director of the China Women and Children Development Center, presents awards to winners of the finals of the 2014 China Wedding Professional Skills Contest in Qingdao City, east China's Shandong Province, on June 4, 2014. [Women of China/Zhang Ping]